In Dedication To Pig E. Gorge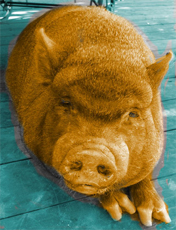 Message:

One year ago this month we had a very special friend enter our lives. Pig E. George. He brings such joy to us, every day he does something that makes us laugh. He hangs out with all of our rescue dogs and cats and you can truly see that he loves the excitement of all of the animals, and he is at home with his family.
So HAPPY BIRTHDAY PIG E. GEORGE!!!!!
From Kevin