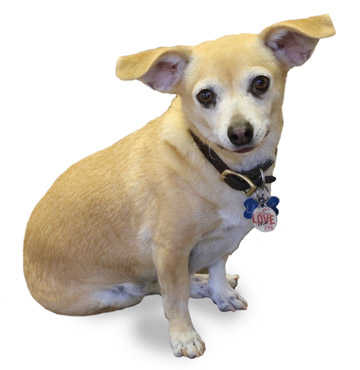 Back in 2008, my son, Dylan, looked out his bedroom window and saw what he thought was a baby coyote in the hills across the street. He called for my wife, Lynnda, who said, "That's not a coyote, that's a dog"! They decided to try and catch it.
Soon they realized it was a female Chihuahua mix that looked like she had been out on her own for a long time. She was completely covered with dirt, her toenails were curling under her feet – and she had tire marks on her back.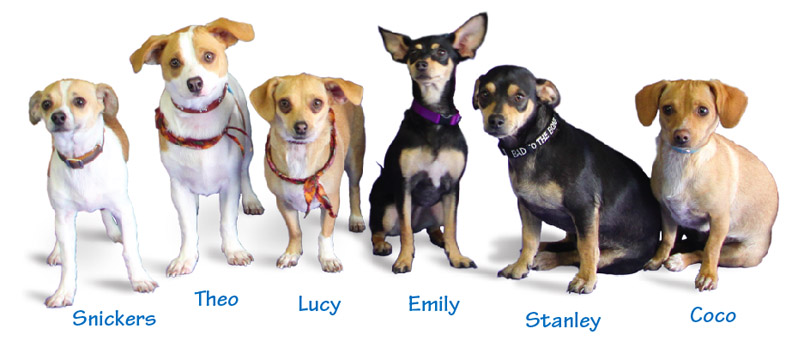 I came home as soon as I could, and we took the dog to the vet. The vet said even with the tire marks, she seemed to be fine, with no broken bones, just a little malnourished. The vet mentioned that she should be spayed. I said, "Absolutely, we need to!", so we made an appointment for two weeks later. This would give us time to look for her parents and also let her recover. We got home and my daughter Bailey gave her a bath and then we looked on the Internet to see if anyone was searching for her. We also put signs up and asked around the neighborhood, but we had no calls, so we named her "Lucy" and made her a part of our family.
We noticed Lucy was gaining weight and when we took her back to the vet to get her spayed, to our surprise the vet said Lucy was pregnant! Lucy had been pregnant when we found her! At home, we set up a whelping box for her, but Lucy decided at 3 am the best place to have her puppies was next to my son Dylan, right on his bed! The first puppy born was Theo. We moved Lucy and her new son to the whelping box where she gave birth to three more healthy puppies. But there was a problem. Lucy was so exhausted that she had no energy to break the sac for the fifth and last puppy.
I noticed the last little pup stopped moving and seemed to be not breathing. So I broke the sac and started massaging the tiny puppy's body and thankfully he started breathing…his name is "Stanley".
Today "Lucy", "Theo", "Snickers", Emily", "Coco" and "Stanley", are all enjoying great pampered lives with loving forever families, and getting together for family reunions from time to time. Unfortunately, for millions of other dogs and cats, there is no happy ending.
– Joey Herrick