THE LUCY PET FOUNDATION BADGES
Want to show your support for The Lucy Pet Foundation on your website or blog helping us to spread awareness? Bloggers, We're very excited to offer you our badges.
The Lucy Pet Foundation provides these badges to help all of us promote and spread awareness together. We believe we can put the spotlight back on the need to help save animals from being euthanized.
How do I put these badges on my website?
Simply copy and paste the code for the badge that you want to place on your website or blog.
Who Can use these badges?
Anyone may use these badges they are free to use on anyone's website or blog as they are linked to The Lucy Pet Foundation website.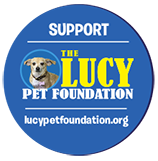 Instructions: Copy and paste this code to your website: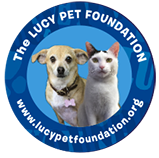 Instructions: Copy and paste this code to your website: