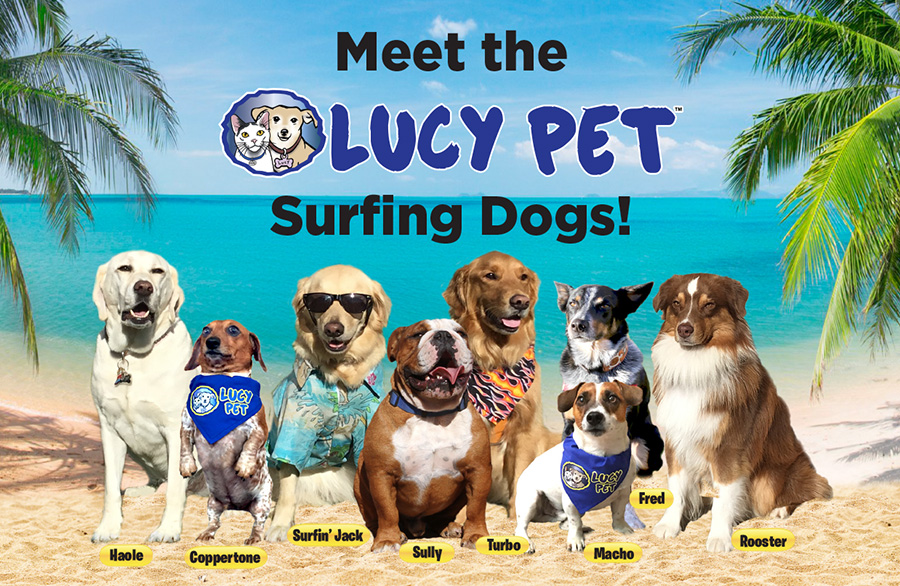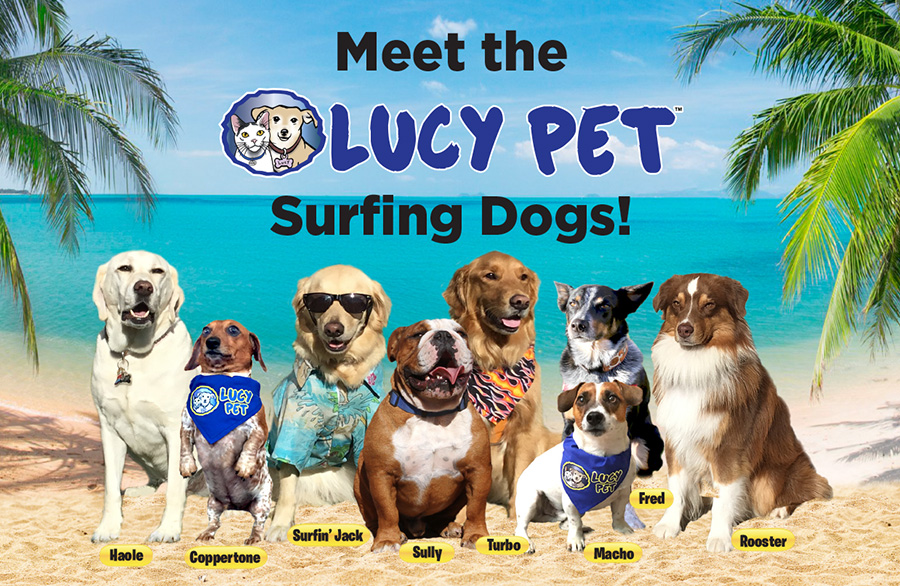 We are so excited for our float at the Rose Parade that we just want it to be January 2nd already, but before we get things a rolling, we need to introduce to you some of our furry friends along with pop star sensation, dancer and social media guru, JoJo Siwa and the very talented, daytime television star, Carolyn Hennesy. Let's get started!
● Surfin' Jack (Breed: Golden Retriever/Saluki) Surfin' Jack was adopted from the East Valley Animal Shelter in Los Angeles. She is the Canine Ambassador to the Lucy Pet Foundation and Chief Product Coordinator for Lucy Pet Products. This fun-loving four-year-old pup loves traveling to pet stores and events as the official spokesperson for Lucy Pet, jumping in the swimming pool, chasing squirrels and digging for gophers.
● Sully (Breed: English Bulldog) Sully was named after Captain Chesley Sullenberger, the pilot famous for landing a plane on the Hudson River is 2009. Sully took home 1st place in 2016 Unleashed by Petco Surf Dog Competition, and this will be his third time riding on a Rose Bowl float. This seven-year-old pup loves surfing, riding on ATVs, digging for gophers, staring at cows and sleeping on expensive furniture.
● Turbo (Breed: Golden Retriever) Turbo started at six months old, and he has been competing and winning on the surf dog circuit since 2013, including 1st place win at the 2015 Helen Woodward Surf Dog Surf-A-Thon in Del Mar, Ca. Turdo was rescued from a life with little human interaction, malnourished, covered in parasites and afraid of the world, but he flourished with the love and affection from his new parents. This four-year-old pup loves to surf, swim and being a foster 'brother" for very ill or severely injured dogs who require long-term foster care and medical attention while awaiting their forever homes.
● Haole (Breed: Labrador Retriever) Haole has been competing and winning on the dog surfing circuit since 2013. He "told" his owners he wanted to surf by jumping on his dad's surfboard! He works with A Walk on Water, a non-profit organization that provides surf therapy for special needs children and their families. This eight-year-old pup loves surfing, obviously, riding on his golf cart, eating Frosty Paws ice cream and shredding new toys in minutes.
● Fred (Breed: McNab Shepherd) Fred is a Champion Disc Dog and born entertainer who taught himself to ride a surfboard in the family pool. He loves his family's cats and even shares his treats with his cat "Thomas: during training exercises. This fun, five-year-old pup loves swimming, dock diving, surfing, chasing balls, learning new tricks and entertaining crowds at local school and community fundraising events.
● Coppertone (Breed: Miniature Dachshund) Coppertone has been featured in countless news articles, videos, greeting cards and music videos around the world. She was recently featured on America's Funniest Home Videos. Coppertone holds the title of DOGTV's honorary mayor of San Diego and was featured on the Champion Dogs of San Diego parade float. This loving three year old loves to surf, skateboard, jet skiing, snowboarding, paddle boarding, riding Harley Davidsons, modeling and performing tricks.
● Macho (Breed: Russell Terrier) Macho is an AKC champion Dock Diver and holds multiple titles in Obedience, Racing, and Tricks. Macho spent the summer surfing from coast to coast alongside his house sister, Coppertone, on the Lucy pet's Gnarly Crankin' K-9 Wave Maker National Tour. This two-year-old loves surfing, playing frisbee, lure coursing, skateboarding, soccer, snowboarding, kayaking, fireworks, dock diving and performing tricks.
● Rooster (Breed: Australian Shepherd) Rooster holds multiple titles in Dock Diving, Barn Hunting, and Obedience. He is happiest when he's around people, performing and having his picture taken. Rooster is new to the dogs surfing world but spent the entire summer practicing and won a coveted spot on Lucy pet's Gnarly Crankin' K-9 Wave Maker Rose Parade float! This two-year-old pup loves swimming, dock diving, showing off his new surfing skills, playing fetch, pretending he's a gymnast and smiling for photos.
Besides all of our awesome dogs, we are so happy that JoJo Siwa and Carolyn Hennesy will be joining us on our float! JoJo is a 13-year-old pop star sensation, dancer, and social media guru. JoJo is an avid pet lover with three dogs and this will be her first time ever on a Rose Parade Float. We are so lucky she can join us, check out her new song "Boomerang" on youtube today! The brainy, brassy, beautiful and Emmy nominated star, Carolyn Hennesy will be on our float as well! This talented star is known for her roles on General Hospital and True Blood. Besides being on your television screen, Carolyn is a true animal lover! So what are you waiting for? Come join us January 2nd, 2017 for all the fun and make sure to keep your eyes peeled for all our surfin' dogs! Surfs Up!